Turning Point
with Dr. David Jeremiah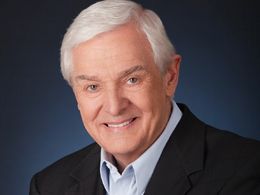 Stay Consistent, Part 2
Friday, July 22, 2016
Living confidently in Christ is the perfect answer to the unrest and uncertainty of our world. But there's an even better reason we should strive to abide in Him. Dr. David Jeremiah reminds us that our ability to live consistently for Christ in this life will affect our reward in the next life.  
Recent Broadcasts
Featured Offer from Turning Point

Living With Confidence In A Chaotic World-Book
We know that we are living in the last days. Our world seems to be filled with chaos. So what do we do? Dr. David Jeremiah has identified ten aspects to live confidently in a world of uncertainty, and honoring Christ through it all. Examples of the principles to practice are: stay centered on Christ, stay confident in the Word, stay compassionate toward others, and stay connected to the church. Living With Confidence in a Chaotic World is your personal guidebook to overcome the challenges in our world with confidence and faith.