Back to the Bible
with David Platt
By Making Disciples, Part 2
Friday, December 7, 2018
How are you going to multiply the Gospel? This is the question David Platt challenges us with. There are several components to disciple-making that every believer should know, and we'll go through each them. A small group of believers, seeking the glory of God, and committed to making Him known can have a resounding impact on the world.
Recent Broadcasts
Featured Offer from Back to the Bible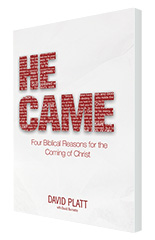 Experience the fullness of Christmas!
Discover why Jesus came to earth in David Platt's new booklet, He Came. In this insightful resource, you'll explore the four reasons why Jesus chose to dwell among us, and how those reasons can impact your everyday life. Go deeper with God this Christmas and open your eyes to why He Came!