Back to the Bible
with Warren Wiersbe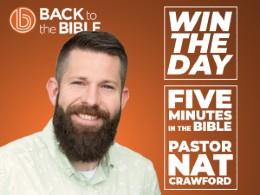 Interview with Jonah
Friday, January 11, 2019
Have you ever missed the end of a great TV show? It can really leave you hanging. Well, one of the great stories in the Bible does just that. The Book of Jonah leaves us wondering how it all turned out. Warren Wiersbe takes us to the end of Jonah and shows us several lessons we can apply to our lives today.
Recent Broadcasts
Featured Offer from Back to the Bible
How to Detect and Defeat Satan
Warren Wiersbe discusses basic biblical instruction on defeating the strategies of the devil. Centering his material on Satan's attacks as a deceiver, destroyer, ruler, and accuser, Wiersbe emphasizes conquering the enemy by obeying God's truth. Chapters are included on defeating the devil in the church and in the home.