Back to the Bible
with Dr. Bryan Clark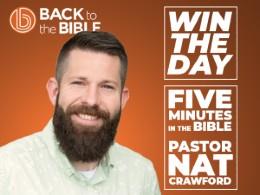 The Way of Salvation pt. 1
Monday, May 20, 2019
Do we live in obedience to God, understanding we will give an account to Him one day? Does it really affect our lives in a very real and practical way? In his study of Genesis 7:1-24, Bryan Clark teaches that God calls us to be obedient to Him, which means we may stand out and even be mocked by the world.
Recent Broadcasts
Featured Offer from Back to the Bible
Standing Firm in Your Faith - here's some wisdom to make this happen!
We live in a time when our faith is under attack and our beliefs about marriage, sexuality, family, the sanctity of life, and other key issues are ridiculed. Bryan Clark's latest book, An Unshakable Foundation, will help you take a fresh look at the core aspects of our faith, so you can be unshakably rooted in the truth—which is critical in today's culture