Bridging the Gap
with Lloyd Pulley
Be Faithful Unto Death Part 1
Tuesday, March 26, 2019
If you're a Christian, at some point in your life, you'll be persecuted. The Lord said so! Today we'll look at the second letter to the seven churches in Revelation. The church in Smyrna is the subject, in chapter two, verses eight through eleven. They were being persecuted, but they were persevering as well. 
Recent Broadcasts
Featured Offer from Bridging the Gap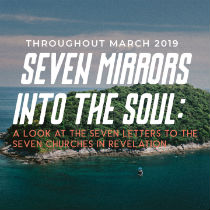 Throughout MARCH 2019
Seven Mirrors into the Soul: A Look at The Seven Letters to the Seven Churches in Revelation - In Revelation, John the beloved apostle, is given a message to write seven letters to the seven churches in Asia. These letters, written to correct and guide have both personal and prophetic application. Within these letters you see two thousand years of church history unfold. From the Early Church to the Reformation Church and even the church today, these letters are like mirrors to the soul where we see not only church history but our inner selves. Whether our faith is lukewarm, we have little strength, or we need to return to our first love, Jesus Christ, these letters show us not only the state of the church but what's deep within our own hearts. In his message "The Seven Letters to the Seven Churches" from the book of Revelation, Pastor Lloyd teaches the true significance of the letters to the churches: as seven mirrors piercing into the soul with great counsel from the Lord for our hearts. Pastor Lloyd's series explains the message to each first century church and its significance to your life today. An MP3 CD containing these messages is our gift to you when you support the Bridging the Gap radio ministry with a gift of any amount throughout March 2019. Your gifts bring the Word of God to people throughout the nation and helps believers grow into faithful followers of Jesus. Join us on this journey of faith throughout March!