Bridging the Gap
with Lloyd Pulley
Behold the Lamb, Part 1
Thursday, April 9, 2020
 It's because of what Jesus accomplished on the cross that we have been redeemed from our helplessly sinful lives. It's depressing to think where we would be as a people, if it were not for that sacrifice.And at the same time, with all that is going on in the world right now, we should rejoice in the knowledge that God loves us so much, He gave up His precious son to save us.
Recent Broadcasts
Featured Offer from Bridging the Gap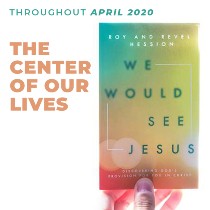 We Would See Jesus
Who is at the center of your life? In their book, "We Would See Jesus," Roy and Revel Hession tell us that Jesus is the One who must be at the center of every Christian life and that we must look no further than His face to see God and know Him as He really is.This month's Bridging the Gap offer teaches us that in Jesus all needs of the human heart are met.  A paperback copy of Roy and Revel Hession's book "We Would See Jesus," is your gift when you support Bridging the Gap with a gift of $10 or more throughout April.