Bridging the Gap
with Lloyd Pulley
Christ and His Bride, Part 1 a
Tuesday, June 30, 2020
Today we continue pastor Lloyd Pulley's series called "The Family of God". Our topic today is roles in marriage. God's word sets forth very specific roles for marriage, and we have got to really understand what He's saying in order to have a Godly marriage. That's what we'll do over the next four broadcasts - get to know our roles in marriage.
Recent Broadcasts
Featured Offer from Bridging the Gap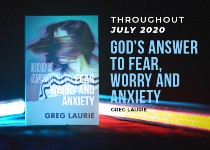 Gods Answer to Fear Worry and Anxiety
The times we live in and the uncertainty surrounding us can be overwhelming. We find ourselves worried and gripped by fear of what's to come. But did you know that God has an answer to your fear, worry and anxiety? As children of God, we don't have to fear.  We can find comfort in the promises of God. In his book God's Answer to Fear Worry and Anxiety, Greg Laurie teaches that only when we rely on God and lean on His promises are we free from fear. A paperback copy Greg Laurie's book "God's Answer to Fear Worry and Anxiety" is your gift when you support Bridging the Gap with a gift of $10 or more throughout July.