Bridging the Gap
with Lloyd Pulley
Christ and His Bride, Part 2 b
Friday, July 3, 2020
Men and women are very differnt. God made it that way! And we can have wonderful marriages, if we learn to work at it. Today on Bridging the Gap, we continue pastor Lloyd Pulley's new series called "The Family of God", as we take one last look at marriage. If your marriage is on the ropes, stay with us - Lloyd has some great biblical truths to share with you! 
Recent Broadcasts
Featured Offer from Bridging the Gap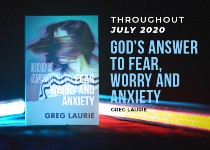 Gods Answer to Fear Worry and Anxiety
The times we live in and the uncertainty surrounding us can be overwhelming. We find ourselves worried and gripped by fear of what's to come. But did you know that God has an answer to your fear, worry and anxiety? As children of God, we don't have to fear.  We can find comfort in the promises of God. In his book God's Answer to Fear Worry and Anxiety, Greg Laurie teaches that only when we rely on God and lean on His promises are we free from fear. A paperback copy Greg Laurie's book "God's Answer to Fear Worry and Anxiety" is your gift when you support Bridging the Gap with a gift of $10 or more throughout July.