Bridging the Gap
with Lloyd Pulley
Danger of Worldliness, Part 2
Thursday, May 16, 2019
The northern kingdom of Israel, having persisted in their unrepentant and blatant sin before God, was soon to be judged. But God, in His love and mercy, sends them the Prophet Amos to call them to return to the Lord, and escape the certain judgment to come. Our scripture reference today is Amos chapters five and six. 
Recent Broadcasts
Featured Offer from Bridging the Gap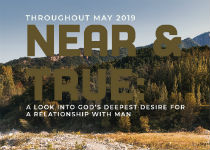 Near and True: A Look Into God's Deepest Desire For A Relationship With Man
Have you looked around at today's society and wondered if God has abandoned this nation? Could it be that it isn't a case of God abandoning us, but instead of us abandoning God? So many blessings have been bestowed upon us by the Lord, and in response we have pushed him away and cheated like an  nfaithful spouse. We chase after other gods: sex, greed, achievement,  oney, self. We are as guilty of idolatry as the Israelites were in their time. After being rescued from bondage in Egypt they  elighted in God's love, until they didn't. They turned to other gods and pushed the one true God aside. David Guzik's devotional of the Minor Prophets "Near and True" outlines the messages given by God's spokesmen to the Israelites in their time of waywardness. Messages that are just as significant today as they were 2500 years ago and show God's desire for a near and true relationship with man. The Minor Prophets: Hosea, Joel, Amos, Jonah, Micah, Nahum, Habakkuk, Zephaniah and Zechariah are "minor" only in that they are short messages. These messages, spoken at different times in a different society are still so applicable today. They outline sin and God's love and mercy. They show God's sovereignty and holiness and His message of repentance, and ultimately promise that if we return to Him, he will restore broken lives. As the Psalmist proclaimed: "Blessed is the Nation whose God is the Lord!" A paperback copy of Near and True (Minor Prophets) by David Guzik and a USB of Pastor Lloyd Pulley Minor Prophets Series is your gift when you support the Bridging the Gap radio ministry with a gift of $15 or more throughout May 2019. Your gifts bring the Word of God to people throughout the nation, and as a result, believers are growing into faithful followers of Jesus. Join us on this journey of faith throughout May!