Bridging the Gap
with Lloyd Pulley
Faithful Love part 1
Tuesday, December 3, 2019
We'll discover today that patience and prayer are two of the most important ingredients in an effective servant's life. It should be the goal of every Christian to be a Godly servant, whether we're attending seminary or going through the check-out line at the store.
Recent Broadcasts
Featured Offer from Bridging the Gap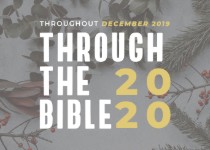 LET THE WORD OF GOD JOIN YOU IN YOUR EVERY DAY!
As a small token of thanks for your financial support to keep Bridging the Gap on air, we will send you The Bridging the Gap "THROUGH THE BIBLE IN 2020" Calendar with your gift of $15 or more throughout December 2019.   Daily life offers us many distractions that can keep us away from the Word of God: work, family obligations, social media. There are so many urgent and important things that we put before our quiet time with the Lord. For some of us it can also be intimidating to even know where to start when reading our Bible. We want this to be an encouragement to challenge yourself and read "Through the Bible in 2020."