Bridging the Gap
with Lloyd Pulley
God's Rescue Plan For Israel, Part 1
Wednesday, June 12, 2019
As we continue our series on end times prophecy today, pastor Lloyd will take us to the focal point of all of the end times events - Israel. What will become of her? And what about her enemies? If you've been confused at times about the real motives and goals of the Muslim world, then stay tuned, because pastor Lloyd will clear it all up today. Our scripture reference is Ezekiel chapters thirty eight and thirty nine.    
Recent Broadcasts
Featured Offer from Bridging the Gap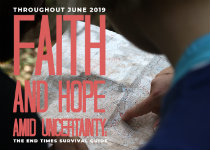 The End Times Survival Guide
We live in turbulent times. We see evil intensifying with regular shootings, terrorist attacks, protests and violence. Safety seems ever more elusive.  We face racial tension, political turmoil, natural disasters and disease We are seeing the moral culture deteriorate as the Judeo-Christian foundation is disregarded.  All signs point us closer to the final days. What do we do when we are faced with an uncertain future? We turn to whatever makes us feel safer. How else can you explain our obsession with survival?  The TV show Survivor is in its 38th season. Doomsday Preppers, Man vs. Wild and other survival series continue to grow in popularity with new variations coming out regularly. As our world looks like it's on the verge of falling apart, we try to learn how to make ourselves safe. In his book The End Times Survival Guide, Mark Hitchcock lays out ten biblical strategies for faith and hope amidst uncertainty. Instead of turning to man-made safety measures, God has equipped us with the spiritual tools we need as the end draws closer. Hitchcock teaches biblical survival strategies to help you remember that the battle is spiritual and equip you as you cling to God's Word and Promises.  A paperback copy of The End Times Survival Guide and a USB of Pastor Lloyd Pulley's End Time Series is your gift when you support the Bridging the Gap radio ministry with a gift of $15 or more throughout June 2019. Your gifts bring the Word of God to people throughout the nation, and as a result, believers are growing into faithful followers of Jesus. Join us on this journey of faith throughout June!