Bridging the Gap
with Lloyd Pulley
Israel's Final Deliverance, Part 1
Friday, September 13, 2019
We are nearing the end of Zechariah as we head into chapter twelve today with a look at the future deliverance of Jerusalem. It's no secret that this famous city in Israel plays a very significant role in the last days. It's also no secret that America has long been an ally of hers. So, what does the Bible mean when it says one day EVERY nation will be against Israel? Does that include us?
Recent Broadcasts
Featured Offer from Bridging the Gap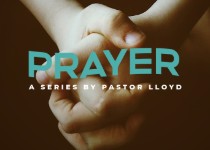 Prayer Series
FOR YOUR GIFT OF $15 OR MORE THROUGHOUT SEPTEMBER YOU WILL RECEIVE A USB COPY OF PASTOR LLOYD PULLEY'S PRAYER SERIES. So often, prayer seems like one of the greatest weaknesses in the lives of many believers. We are pushed in so many different directions and are so very busy raising families, working, and even conducting ministry, that we often forget the greatest power we wield as believers – the power to seek the will of God in prayer. In this transformative, 8-part series on prayer, Pastor Lloyd shows us how we can seek the Spirit of God to fill and empower your prayer life.  A USB copy of Pastor Lloyd's PRAYER SERIES is your gift when you support the Bridging the Gap with Pastor Lloyd radio ministry with a gift of $15 or more throughout September 2019.