Bridging the Gap
with Lloyd Pulley
King Jesus' Commission Part 1b
Monday, February 11, 2019
In Matthew chapter ten, Jesus laid out His plan for the disciples, for what they should do after He was gone. He took time to make sure they understood that persecution would be part of their experience when they started sharing the gospel message, and the same thing is true for us today. The world doesn't want to hear it. But we must proclaim it anyway - no matter what the cost! Pastor Lloyd's message is titled "King Jesus' Commission".
Recent Broadcasts
Featured Offer from Bridging the Gap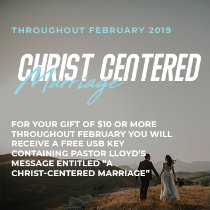 A Christ Centered Marriage - Colossians 3:18-19
So much of life comes down to relationships. As C.S. Lewis once said, "Friendship is unnecessary, like philosophy, like art…It has no survival value; rather it is one of those things which give value to survival." Navigating relationships can be difficult, particularly romantic relationships. Any marriage is bringing two imperfect, sinful people together, and that always comes with friction. No two people can come together perfectly without the help of the Holy Spirit. That's exactly what Pastor Lloyd Pulley unpacked in his message entitled "A Christ-Centered Marriage".  In looking through Colossians 3, Pastor Lloyd shows that marriage is meant to point to something much greater, the way that Christ loves the church. When people approach marriage through the roles God always intended for men and women, marriage shifts from being a struggle between two sinners to a wonder picture of the faithful love of Jesus. For your gift of $10 or more we'll send you Pastor Lloyd's message entitled "A Christ-Centered Marriage," on a USB Key. Your gifts help us bring the Word of God, to oneplace.com every day!  And as a result, believers are growing into faithful followers of Jesus. Join us on this journey of faith throughout February!