Bridging the Gap
with Lloyd Pulley
Our Eternal God, Our True Home, Part 1
Thursday, April 2, 2020
We are interrupting our series through Joshua to begin a series of messages that we hope will help you cope with the trying times we find ourselves in. The ramifications of the Coronavirus Pandemic arena being fully realized by all of us. What started out as a minor annoyance has grown into a full scale national emergency - not only here in the U.S., but around the world. The question is, how should a Christian deal with this crisis?
Recent Broadcasts
Featured Offer from Bridging the Gap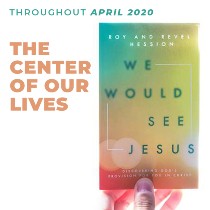 We Would See Jesus
Who is at the center of your life? In their book, "We Would See Jesus," Roy and Revel Hession tell us that Jesus is the One who must be at the center of every Christian life and that we must look no further than His face to see God and know Him as He really is.This month's Bridging the Gap offer teaches us that in Jesus all needs of the human heart are met.  A paperback copy of Roy and Revel Hession's book "We Would See Jesus," is your gift when you support Bridging the Gap with a gift of $10 or more throughout April.