Bridging the Gap
with Lloyd Pulley
Our Eternal God, Our True Home, Part 2
Friday, April 3, 2020
Yesterday we began a new series of messages aimed at answering questions and calming spirits concerning the Coronavirus pandemic. Recall for a moment the aftermath of 9/11. People from coast to coast turned to God for answers and comfort in the days after that terrible tragedy. The same is happening today in the midst of the Coronavirus. The word of God has answers to all of man's questions and problems, and today, pastor Lloyd will take us again to Psalms ninety and ninety-one.
Recent Broadcasts
Featured Offer from Bridging the Gap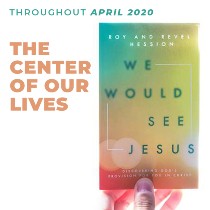 We Would See Jesus
Who is at the center of your life? In their book, "We Would See Jesus," Roy and Revel Hession tell us that Jesus is the One who must be at the center of every Christian life and that we must look no further than His face to see God and know Him as He really is.This month's Bridging the Gap offer teaches us that in Jesus all needs of the human heart are met.  A paperback copy of Roy and Revel Hession's book "We Would See Jesus," is your gift when you support Bridging the Gap with a gift of $10 or more throughout April.