Bridging the Gap
with Lloyd Pulley
Prayer Model, Part 1 b
Friday, November 8, 2019
As we begin another edition of Bridging the Gap, we're reminded that God cares enough about His children to meet our every need and listen to our requests. But making requests is only one part of prayer, we must also include adoration and thanksgiving. Today, pastor Lloyd Pulley continues to glean vital prayer principles from the Lord's prayer, as part of his new series on prayer . 
Recent Broadcasts
Featured Offer from Bridging the Gap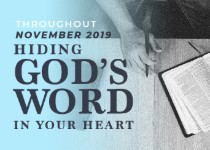 Hiding God's Word In Your Heart
In 2 Timothy 3:16-17 the Apostle Paul tells us "All Scripture is given by inspiration of God, and is profitable for doctrine, for reproof, for correction, for instruction in righteousness, that the man of God may be complete, thoroughly equipped for every good work."  The Bible is the living Word of God and we are told to store up the Word in our hearts. Memorizing the bible, learning scripture and engraving it in your heart is a necessity for every believer. There is nothing more rewarding than memorizing Scripture.  Hiding God's Word in your heart changes your outlook on life, solidifies your faith and strengthens your prayer life. Pastor Lloyd has gathered 52 scriptures that he believes are a necessity for every believer to store in their heart. We greatly desire your prayers and financial support and as a small token of thanks we will send you Pastor Lloyd's List of 52 Scriptures Every Believer Should Memorize and a Bible Study Notebook when you this radio ministry with a gift of $5 or more throughout November.  Your gifts bring the Word of God to people throughout the nation, and as a result, believers are growing into faithful followers of Jesus. Join us on this journey of faith throughout November!