Bridging the Gap
with Lloyd Pulley
Sealed by the Spirit, Part 2
Friday, May 22, 2020
Today we'll return to Lloyd's new series called "Christian Growth and Development", as we continue  to learn how to make the power of the Holy Spirit a constant part of our lives. One way to make the power of the Holy Spirit a part of our lives is to understand the basics of who He is, where He comes from and what He's doing.
Recent Broadcasts
Featured Offer from Bridging the Gap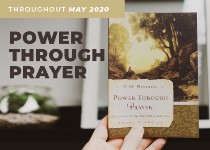 Power Through Prayer
"…if My people who are called by My name will humble themselves, and pray and seek My face, and turn from their wicked ways, then I will hear from heaven, and will forgive their sin and heal their land."  2 Chronicles 7:14Whether in giving thanks or asking for the Lord to help in the midst of worldwide pandemic, many are turning to prayer right now. Those who have never trusted in the Lord before are seeking Him and learning about the power that prayer holds. But for many Christians prayer is just another thing to check off our lists. We don't realize that the power of prayer is real and that when we humble ourselves and seek Him our lives are filled with incredible richness.  In this month's Bridging the Gap offer Civil War Army Chaplain and Pastor E.M. Bounds helps us rediscover the power of prayer and how it is a source of spiritual power in our life.  This classic book has been called "one of the truly great masterpieces on the theme of prayer." A paperback copy of E.M. Bounds book Power Through Prayer: Moody Classics is your gift when you support Bridging the Gap with a gift of $10 or more throughout May.