Bridging the Gap
with Lloyd Pulley
The Spirit of the Law
Friday, January 11, 2019
A very wise person once said this about sin: "Get ruthless with your sin – show it no mercy - for it will show you none. You need to kill it - or it'll kill you".  Sin starts small and hidden away, but left unchecked it grows secretly then it saps our strength if not dealt with. In other words, it kills. In Matthew chapter five Jesus warns us of the dangers and consequences of sin. This is such an important lesson for us in the year 2019, because, let's face it - the world certainly doesn't take sin seriously, and there are a lot of Christians who don't either. How can we reverse this trend?
Recent Broadcasts
Featured Offer from Bridging the Gap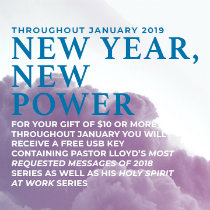 New Year, New Power
A free USB drive containing Pastor Lloyd's Most Requested Messages of 2018 series as well as his Holy Spirit at Work series is our gift to you when you support Bridging the Gap radio ministry with any gift of $10 or more throughout January 2019. Your gifts bring the Word of God, through radio, to people throughout the nation, and as a result, believers are growing into faithful followers of Jesus. Join us on this journey of faith throughout January!