Candid Conversations with Jonathan Youssef
with Jonathan Youssef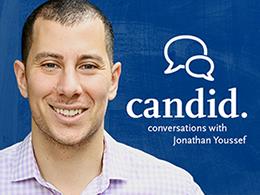 Episode 19: Looking Forward to 2020
Tuesday, December 31, 2019
Thank you for joining us for Candid Conversations in 2019.  In this New Year's Eve episode, Jonathan offers his appreciation for you and your engagement with the podcast this year.   He also reveals little known facts about resolutions including which states are the best and worst at keeping resolutions.  Sorry, Texas.Jonathan also reads some of your encouraging notes to our team and shares how you can help direct content on future episodes of Candid Conversations. We want to hear from you.From the entire Candid Conversations team, we wish you a  happy and healthy New Year!
Recent Broadcasts
Featured Offer from Candid Conversations with Jonathan Youssef

GET DR. MICHAEL YOUSSEF'S CONTROVERSIAL NEW BOOK
How will the people of God respond to the threat posed by false teaching? Pre-order your copy of Dr. Youssef's new book today for your gift of any amount—and learn how you can live unashamed for Christ and hold fast to the essentials of your faith. When you pre-order Saving Christianity? you'll also receive a FREE downloadable resource: Truth Tips—4 tips for discerning Truth in today's culture.