Candid Conversations with Jonathan Youssef
with Jonathan Youssef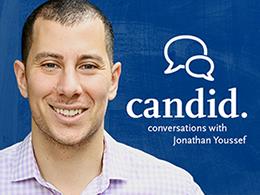 Episode 32: Clay Kirkland: How Do You Combat Rising Anxiety?
Tuesday, March 31, 2020
As stress and isolation grow, how can we combat rising anxiety without normalizing it? Clay Kirkland offers unique insight and help from his personal struggle with anxiety and years of providing spiritual direction for thousands of young adults while leading one of the largest campus ministries in the United States.  In this episode of Candid, Clay unpacks his own personal struggle with anxiety and shares how the Lord met him in the midst of it. He also takes you into the Word of God to help you understand the spiritual root of anxiety and unpacks the steps to walking in peace—even when your circumstances haven't changed. Connect with Clay Kirkland who  helps individuals, couples, and businesses overcome obstacles to thrive in what God has called them to do.To ask Jonathan a question or to connect with the Candid community, visit https://LTW.org/CandidFacebook: https://www.facebook.com/candidpodInstagram: https://www.instagram.com/candidpodTwitter: https://twitter.com/thecandidpod
Recent Broadcasts
Featured Offer from Candid Conversations with Jonathan Youssef

June Gift Challenge: Because Many Are Searching
This month, generous partners have committed $1.3 million to Leading The Way and are challenging all of our partners to help match their gifts. With your support, $1.3 million can become $2.6 million for Gospel ministry. As we know many are searching for Truth during this unprecedented time, consider a generous gift to Leading The Way this month and join us as we press on to proclaim Truth that is transforming lives around the world.