Candid Conversations with Jonathan Youssef
with Jonathan Youssef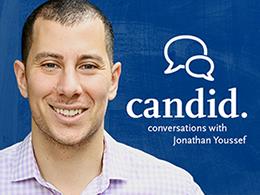 Episode 65: Paul Reeves: "Cancer Saved My Life."
Tuesday, November 17, 2020
At 34 years old, Paul Reeves was diagnosed with Stage III colon cancer.  He was a healthy and active husband, father, and worship leader who never expected to have a life-threatening illness.  What happened after Paul's diagnosis will remind you that some of our greatest blessings come through our fiercest trials.  In this episode of Candid Conversations, Paul sits down with Jonathan to discuss an incredible story of God's unrelenting love and faithfulness through his two battles with cancer.  This season is the inspiration behind his latest song release, "The Shepherd's Song"; one of a four-part series on the newest Apostles Worship music written for the body of Christ.  Take a few minutes to listen and then share this episode with a friend. To ask Jonathan a question or connect with the Candid community, visit https://LTW.org/CandidFacebook: https://www.facebook.com/candidpodInstagram: https://www.instagram.com/candidpodTwitter: https://twitter.com/thecandidpod
Recent Broadcasts
Featured Offer from Candid Conversations with Jonathan Youssef

TREASURE THAT LASTS: NEW BOOK FROM DR. MICHAEL YOUSSEF
Our world wants us to pursue pleasure, privilege, and power without giving a thought to eternity. But God is calling us to devote our lives to much greater things. Order your copy of Dr. Youssef's new book Treasure That Lasts—and discover what it means to choose God's glory over the world's gold.