Candid Conversations with Jonathan Youssef
with Jonathan Youssef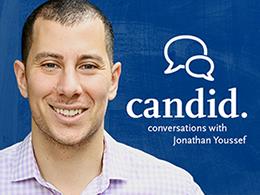 Episode 74: Erick Erickson: Save the Country, Save the Gospel?
Tuesday, January 19, 2021
A new wave of political unrest has left Christians wondering, "How should we engage in politics?" Erick Erickson joins Jonathan Youssef to discuss politics and faith and reveals where Christians should place their focus during this tumultuous time for our nation.Erick Erickson is a conservative, evangelical, author and runs a political blog The Resurgent as well a weekly radio host on Atlanta's WSB, 750AM. 'Evening News with Erick Erickson'.He has previously served as the editor-in-chief and the CEO of the conservative political blog RedState, while working at RedState, Erickson developed a reputation 'as one of the most influential American conservatives' and he has previously served as a political contributor for CNN and Fox News. He practiced law for six years, oversaw a number of political campaigns at the federal, state and local levels. He was also an elected city councilman in Macon, GA.Join Jonathan and Erick for a candid conversation that will challenge and encourage you.To ask Jonathan a question or connect with the Candid community, visit https://LTW.org/CandidFacebook: https://www.facebook.com/candidpodInstagram: https://www.instagram.com/candidpodTwitter: https://twitter.com/thecandidpodThe Erick Erickson Show: https://www.erickericksonshow.com/    
Recent Broadcasts
Featured Offer from Candid Conversations with Jonathan Youssef

GET DR. MICHAEL YOUSSEF'S ENLIGHTENING NEW BOOK
As our nation faces unparalleled unrest and division, many believers are wondering what to do next. Is there even hope for this present crisis? Pre-order your copy of Dr. Youssef's NEW book Hope for This Present Crisis today for your gift of any amount—and learn the steps you can take to make an impact for Christ in your home, your church, and your community.  Plus, when you pre-order, you'll also receive a FREE downloadable digital resource: Hope for This Present Crisis Action Guide, an exclusive companion to the book.