Pastor Rick's Daily Hope
with Pastor Rick Warren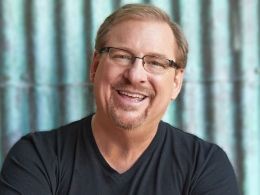 A Faith for Facing an Uncertain Future - Part Two
Friday, November 20, 2020
Not knowing the future creates anxiety and stress in our lives. Yet, Jesus told us to not worry about tomorrow; the present has enough problems to handle, so we don't need to add tomorrow's problems to it. Join Pastor Rick as he digs into the Bible to teach how to live by faith, even though we don't know what the future will hold. Join Pastor Rick as he continues to teach from the Bible about how we can avoid presuming or procrastinating about the future. 
Recent Broadcasts
Featured Offer from Pastor Rick's Daily Hope
Purpose of Christmas Hardcover Book
Find True and Lasting Peace This Christmas! No matter what challenges you've faced this year, you can rejoice this holiday season in the peace made possible through the birth of Jesus. That's why we hope you'll request your copy of Pastor Rick's book, The Purpose of Christmas. This inspirational book shows you why you can be certain that God is still in control, even when the times we live in seem so uncertain.