Pastor Rick's Daily Hope
with Pastor Rick Warren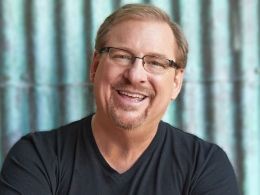 Following Your Heart - Part Two
Wednesday, April 28, 2021
In this message series, discover how giving your heart fully to Christ will transform you, healing your hurts and giving you a renewed energy and passion for life. Join Pastor Rick as he shares the good news that God specializes in heart transplants. Learn about what God can do through a broken heart submitted to him. 
Recent Broadcasts
Featured Offer from Pastor Rick's Daily Hope
SHAPE Study Kit
Live the Most Fulfilling Life - by God's Design. Every Christian asks the question at some point: What does God want me to do with my life? It's a great question to ask because God intentionally created you to fulfill a unique purpose. And you're invited to discover what that is with the SHAPE study kit. S-H-A-P-E stands for Spiritual gifts, Heart, Abilities, Personality, and Experiences—five aspects of your life that reveal how God wired you and help you see where he's leading you.