Pastor Rick's Daily Hope
with Pastor Rick Warren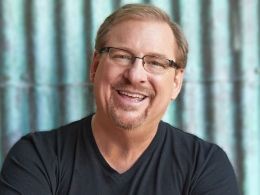 What To Do When You Get A Second Chance - Part Four
Tuesday, August 11, 2020
Every new day is another chance from God to start doing the things he wants you to do. Each morning is a fresh start, and God will never run out of mercy. In this message, Pastor Rick teaches the five things you need to do when God gives you a second chance. When God give you a second chance, expect him to use you, no matter what you've done or where you've been. Join Pastor Rick as shows you why God keeps you alive to fulfill his mission whether you've done anything about it or not up to this point. 
Recent Broadcasts
Featured Offer from Pastor Rick's Daily Hope
God's Power To Change Your Life Book
You've Been Given the Power for Real, Lasting Change! Ever wish you had more patience? Love? Joy? Self-control? Most people do, and we often exhaust ourselves trying to "be better" without ever experiencing real, lasting change. So what's the secret to breaking the cycle and actually becoming the person God created you to be? That's what you'll discover in Pastor Rick's book God's Power to Change Your Life. Find out how God's Word and the power of the Spirit work together to transform you from the inside out—so your outward behavior reflects the inward reality of Christ in your heart. God's Power to Change Your Life is our way to thank you for your gift below to help transform more lives with the certain hope of Jesus.