Every Last Word
with Dr. Philip Graham Ryken
An Internship for the Apostles
Sunday, July 7, 2019
Doing something is often the best way to learn it. That's why Jesus sent his apostles out on an internship. He told them to spread the gospel with their words and their actions – healing the sick and casting out demons. From their trip, the apostles learned valuable lessons of what it means to trust God. These lessons still apply to us today.
Recent Broadcasts
Featured Offer from Every Last Word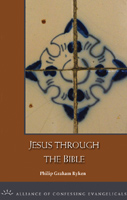 Jesus through the Bible PDF
We believe in a Christ-centered Bible. The salvation that was expected in the Old Testament is exhibited in the Gospels and then explained in the rest of the New Testament. In this booklet, Philip Ryken outlines how Jesus is revealed to us in each book of scripture. - Download this PDF for free. The discount will be applied at checkout.