Every Last Word
with Dr. Philip Graham Ryken
Dead Man Talking
Sunday, May 12, 2019
Have you ever been faced with someone who is mourning a death, and not known how to respond? It's easy to turn away and not comfort them, because we don't know what to say or how to handle their grief. Jesus meets grief head on. When faced with a widow who was burying her only son, He doesn't shy away from the uncertainty of what to do. How does Jesus Christ confront death?
Recent Broadcasts
Featured Offer from Every Last Word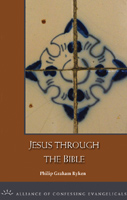 Jesus through the Bible PDF
We believe in a Christ-centered Bible. The salvation that was expected in the Old Testament is exhibited in the Gospels and then explained in the rest of the New Testament. In this booklet, Philip Ryken outlines how Jesus is revealed to us in each book of scripture. - Download this PDF for free. The discount will be applied at checkout.