Every Last Word
with Dr. Philip Graham Ryken
Faith Healer
Sunday, March 17, 2019
Sin makes us like first century lepers: disfigured, unacceptable both to God and other people, and unable to help even ourselves. The leper in Luke was an outcast. He was considered as good as dead by his society, but he still ran to Jesus and cried out for healing. How did Jesus respond to him? How does he respond to us when we turn to him for new life?
Recent Broadcasts
Featured Offer from Every Last Word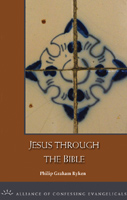 Jesus through the Bible PDF
We believe in a Christ-centered Bible. The salvation that was expected in the Old Testament is exhibited in the Gospels and then explained in the rest of the New Testament. In this booklet, Philip Ryken outlines how Jesus is revealed to us in each book of scripture. - Download this PDF for free. The discount will be applied at checkout.