Every Last Word
with Dr. Philip Graham Ryken
Five Loaves, Two Fish, and Twelve Baskets
Sunday, July 14, 2019
What is impossible for man is easy for God. The disciples learned this first hand when Jesus commanded them to feed five thousand hungry men. After insisting that they couldn't possibly achieve such a feat, they watched Jesus simply break bread and have it multiply in his hands. But Jesus did much more that, He taught his disciples some extremely valuable lessons.
Recent Broadcasts
Featured Offer from Every Last Word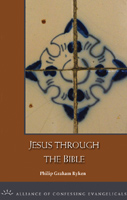 Jesus through the Bible PDF
We believe in a Christ-centered Bible. The salvation that was expected in the Old Testament is exhibited in the Gospels and then explained in the rest of the New Testament. In this booklet, Philip Ryken outlines how Jesus is revealed to us in each book of scripture. - Download this PDF for free. The discount will be applied at checkout.