Every Last Word
with Dr. Philip Graham Ryken
The Hardest Commandment
Sunday, April 14, 2019
You know some times it's hard to love the people we like. If our friends and family can drive us crazy, how can we expect to love people with we don't want to be around? We all know many people who have this problem. Jesus commands us though to love in this seemingly impossible way. How can we follow Jesus Christ's example of loving our enemies?
Recent Broadcasts
Featured Offer from Every Last Word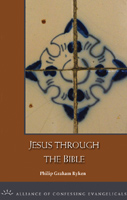 Jesus through the Bible PDF
We believe in a Christ-centered Bible. The salvation that was expected in the Old Testament is exhibited in the Gospels and then explained in the rest of the New Testament. In this booklet, Philip Ryken outlines how Jesus is revealed to us in each book of scripture. - Download this PDF for free. The discount will be applied at checkout.