Every Last Word
with Dr. Philip Graham Ryken
Your Log, My Splinter
Sunday, April 21, 2019
We all love to point out the faults of others. It's difficult to see anything wrong with ourselves. Other people's sins always seem much bigger than our own. How do we live that we hold others accountable for their actions, while not being hypocrites ourselves? How do we take the speck out of our friend's eye when we have a log in our own?
Recent Broadcasts
Featured Offer from Every Last Word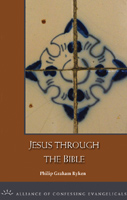 Jesus through the Bible PDF
We believe in a Christ-centered Bible. The salvation that was expected in the Old Testament is exhibited in the Gospels and then explained in the rest of the New Testament. In this booklet, Philip Ryken outlines how Jesus is revealed to us in each book of scripture. - Download this PDF for free. The discount will be applied at checkout.