Faith Talk Ministries
with Lover of Words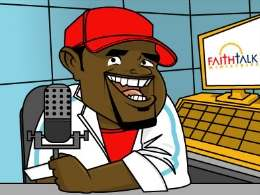 Can You Pass the Faith Test?
Sunday, August 16, 2020
As followers and believers of the Lord Jesus Christ; we are going to be tested. Those of us who are teachers and pastors of the gospel will be tested as well. There will be times when we fall short and God needs us to remember that we were saved by grace through faith.
Recent Broadcasts
Featured Offer from Faith Talk Ministries
Subscribe to the TGIF Today God Is First Devotional by Os Hillman
Start your day with biblical encouragement and relevance to your life and work.
Signup to receive TGIF Today God Is First, a daily devotional by Os Hillman, which combines Biblical teaching with practical insights for your work and life. It is a daily dose of encouragement to help you view your vocational work as ministry and to experience God's presence and power in your work life.
The daily email will also help us serve you by allowing us to provide you with information from our Faith Talk Ministries!