Family Talk
with Dr. James Dobson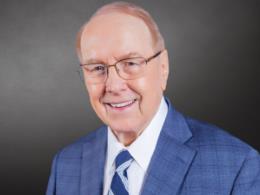 Leaving a Lasting Legacy: Dr. Dobson with Ravi Zacharias
Wednesday, June 3, 2020
Despite the turbulent times we live in, there is a spiritual hunger being stirred throughout our land. On this Family Talk broadcast, you'll hear another program dedicated to the life of the late Ravi Zacharias. Today, Dr. Dobson and Ravi emphasize the importance of remembering God's faithfulness, and holding on to His promises. Discover how this nation can turn its heart back to God.
Recent Broadcasts
Featured Offer from Family Talk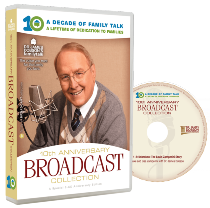 10th Anniversary Broadcast Collection
May 2020 marks the 10-year anniversary of the first Family Talk broadcast—and to help celebrate God's faithfulness to our ministry, we have selected 20 of the most beloved programs from over this momentous decade. Listen in as Dr. James Dobson sits down with amazing guests that include Dennis Prager, Anne Graham Lotz, Eric Metaxas, and our own Dr. Tim Clinton. In this all-star audio collection, you'll receive a special eight-CD boxed set as our way of thanking you for your gift of $50 or more.