Fastened Like Nails
with Mark Hamby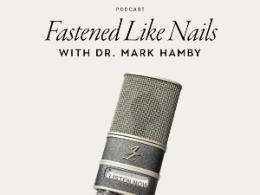 The Unlikely Wise Man, Episode 3 - A Single Glimmer of Hope
Thursday, December 7, 2023
Hey everyone, While one mystery is solved, another one opens before us. We had last left little Toddle setting out into the wintry night, looking for a wiseman. On the other side of town, Robert Redfern sets out with an ulterior motive of his own. Little do they know that every step they take draws them closer to each other. One needs physical rescue, the other spiritual. Robert throws up a bitter prayer to God, and Toddle offers a simple, earnest one. With bright, shining eyes, Toddle mistakes her Uncle Robert for one of the wise men from her story—hence the drama's title. Robert dismisses her with a wave of his hand, "I am not a wise man, child." At least he admits it, right? Robert soon realizes that Toddle is all alone in the snowstorm, and he helps her through the moor. Things rapidly go from bad to worse. Toddle is exhausted, so Robert picks up the child. Nestled in the arms of her "unlikely wise man," Toddle falls asleep. The swirling snowstorm becomes a blinding blizzard, with stinging snowflakes and biting cold. Just when it seems like things can't get any worse, Robert slips and twists his ankle. Cold, miserable, and angry, he realizes he can't make it much further on his own. A horrible temptation takes possession of him, to lay the sleeping child down and leave her. This powerful scene addresses the spiritual condition of Redfern's heart. He is considering this new idea when…. For a moment, the storm ceased, and the moon shone a glimmer of light upon Toddle's face. Then everything changed. A single burst of light had the power to warm his shivering heart. In that moment, Robert saw in Toddle's face his own little girl and had compassion. "What dark thoughts the mind entertains for a moment," Robert says, ashamed. "Here, child, let me wrap you in a bit of my cloak…They may find me dead in the morning, but perhaps I shall have saved the child." There is hope yet for Robert Redfern. What I love about this audio drama is the central theme of hope. It beautifully demonstrates the truth that no person is too lost, too hardened, or impossible to reach. Sometimes God just has to get a little creative. Over the past few months, God has been putting it on my heart to get back in the habit of praying for a close, unbelieving family member. He had been on my heart a lot recently, and I realized with a tinge of regret that I had stopped praying for him because I had given up hope; I had thought it was too late. But then I heard the gentle reminder, "I haven't given up on him, why should you?" I was deeply moved by those words. Now, I don't know what God is doing, or how He is going to do it, but I do know that He is crazy creative! And His ways are always best. Right now, I am challenged and encouraged to step out in faith and pray that God will reach his heart—even if He must use a blinding snowstorm, a glimmer of light, or a twisted ankle to do it! As we head into this Christmas season, may we find opportunities to be that glimmer of light and hope to others! As Hebrews 10:23-24 says, Let us hold fast the confession of our hope without wavering, for He who promised is faithful. And let us consider one another in order to stir up love and good works. Till next time,
Recent Broadcasts
Featured Offer from Fastened Like Nails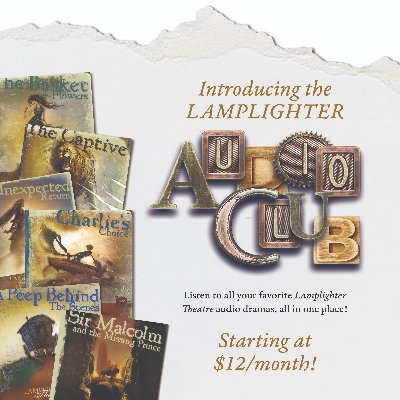 Lamplighter Audio Club
It can be difficult to find meaningful & uplifting content for your whole family.The myLamplighter Audio Club helps your family make long-lasting habits. Join today and get access to most of our Lamplighter Theatre Dramatic Audios.