Focus on the Family Marriage Podcast
with Jim Daly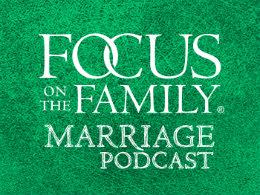 How Can You Serve Your Spouse?
Tuesday, May 30, 2023
Truly loving your spouse will result in showing loving actions. John and Greg discuss how husbands can do things to help their wives, and Jim Daly talks with Chris and Jenni Graebe about how men can give their wives a night off from watching the kids.   Find us online at focusonthefamily.com/marriagepodcast or call 1-800-A-FAMILY   Receive the "The Rhythm of Us" for your donation of any amount!   The Focus on the Family Marriage Assessment is designed to evaluate the strength of 12 essential traits of your marriage. Do you know your marriage's strengths and weaknesses?   Protect Yourself from Marriage Burnout   Healthy Individuals Create Healthy Marriages   Listen Anytime   If you've listened to any of our podcasts, please give us your feedback.
Recent Broadcasts
Featured Offer from Focus on the Family Marriage Podcast