Focus on the Family Weekend
with John Fuller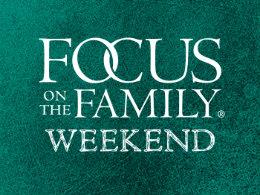 Protecting Babies at Every Stage of Life & Valuing Marriage in a Culture that Doesn't
Saturday, February 16, 2019
You've heard the news about states legalizing abortion at any stage of a pregnancy. A special conversation from Washington, DC, with Senator Ben Sasse, who shares his heart and passion for the value of every human life. Plus, a special announcement from Jim Daly about how you can be a voice for life in our culture. Also, When one couple announced their engagement, their friends and family rolled their eyes and told them, "Marriage isn't worth the trouble." Hear why that couple got married anyway and went on to create a unique and thriving marriage ministry.
Recent Broadcasts
Featured Offer from Focus on the Family Weekend

Essentials of Romance Broadcast Bundle
Need great ideas to help strengthen your marriage this year? Then rekindle the spark this Valentine's season with our best Focus on the Family broadcasts on intimacy and romance. Hear from top marriage experts Dr. Greg and Erin Smalley, Dr. Cliff and Joyce Penner, Pastor Ted Cunningham and Dr. David Clarke as they tackle topics that'll help your marriage relationship thrive.