God Centered Life
with Josh Moody
Beating the Daily Grind, Part 1
Friday, November 15, 2019
People spend their lives doing things that they don't really enjoy. We can think that if we really get spiritual, life is going to be easy. The reality is that's not what we experience. Find out what the Bible has to say about that.
Recent Broadcasts
Featured Offer from God Centered Life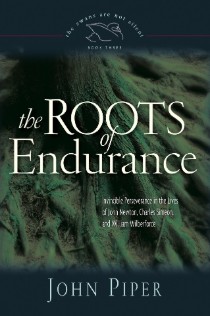 Roots of Endurance by John Piper
This month at God Centered Life, we're offering a copy of John Piper's Roots of Endurance for your gift of any amount. John Newton, Charles Simeon, and William Wilberforce suffered lifelong opposition and endured for the causes of gospel truth, missionary zeal, and political justice, but they did so with joy and without bitterness. John Piper shares their stories, encouraging every heart that it is possible to jump the hurdles in our paths. When you make your gift, we'll send a copy your way.  (If you'd prefer not to receive the book, just note that in the comment box during checkout). God Centered Life is a listener-supported ministry. Your partnership with GCL makes what we do possible, and this ministry cannot exist without your support!