God Centered Life
with Josh Moody
Biblical Answers: The Reliability of the Bible, Part 1
Friday, February 28, 2020
Influenced by the fantastical myths of Greek culture, teachers were encouraging young Christians that if they really wanted to grow spiritually, they must have a mystical "buzz"--some kind of lightning-bolt experience. In contrast, this passage encourages us to place our confidence, rationally and spiritually and with good reason, in the truth of God's Word.
Recent Broadcasts
Featured Offer from God Centered Life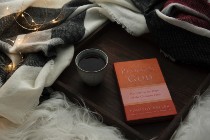 The Prodigal God
This month at God Centered Life, we're offering a copy of Tim Keller's The Prodigal God for your gift of any amount. In The Prodigal God, Tim Keller takes his trademark intellectual approach to understanding Christianity and uses the parable of the prodigal son to reveal an unexpected message of hope and salvation. This book will challenge both the devout and the skeptics to see Christianity in a whole new way. When you make your gift, we'll send a copy your way. (If you'd prefer not to receive the book, just note that in the comment box during checkout). God Centered Life is a listener-supported ministry. Your partnership with GCL makes what we do possible, and this ministry cannot exist without your support!