God Centered Life
with Josh Moody
Genesis - A New Beginning: A New Fight
Friday, June 5, 2020
When we meet Jacob, we can ask him what it was like to wrestle with God. Except all of us at some point in our lives wrestle with God: some of us wrestle for our children, some for our marriages, some for our  careers. Eventually, we have to come to terms with the fact that He is God, and we are not.
Recent Broadcasts
Featured Offer from God Centered Life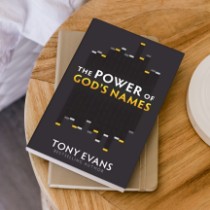 The Power of God's Names by Tony Evans
In The Power of God's Names, Dr. Tony Evans shows that it's through the names of God that the nature of God is revealed to us. Who is God in His fullness? How has He expressed His riches and righteousness? How can you trust His goodness? As you get to know the names of God and understand their meaning, God's character will become real to you in life-changing ways. When you make your gift, we'll send a copy your way. (If you'd prefer not to receive the book, just note that in the comment box during checkout). God Centered Life is a listener-supported ministry. Your partnership with GCL makes what we do possible, and this ministry cannot exist without your support!