God Centered Life
with Josh Moody
God Centered Life - Fear God, Part 2
Wednesday, December 7, 2022
On the one hand, God said that the blessing for all nations would come through Isaac, but on the other hand, God told Abraham to kill Isaac. In the hall of faith chapter in Hebrews, it says that Abraham reasoned that God would raise Isaac from the dead, so he trusted Him enough to obey.
Recent Broadcasts
Featured Offer from God Centered Life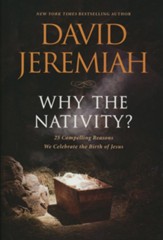 Why the Nativity? by David Jeremiah
Every year, millions of people around the globe celebrate Christmas. But what does it all mean? Drawing from both the Old and New Testaments, noted pastor and theologian David Jeremiah provides answers to 25 of the most thought-provoking questions surrounding the most pivotal moment in human history―the birth of Jesus Christ.