God Centered Life
with Josh Moody
His Riches for All Who Call on Him
Wednesday, June 12, 2019
We have to get our minds off of the idea that we're paying our dues to God when we pray or do "works." We can't give God a bill for services rendered and expect payment. Works don't work; faith does work.
Recent Broadcasts
Featured Offer from God Centered Life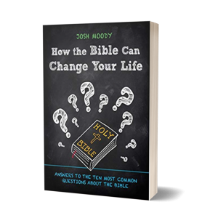 How the Bible Can Change Your Life
Christians are Bible people. We believe that God speaks to us through His inspired Word. And yet many Christians and churches don't actually open their Bibles. Josh Moody asks the question: Why should I read the Bible?