God Centered Life
with Josh Moody
The Authority of God, Part 1
Friday, December 7, 2018
While Romans was written by Paul, we must remember we are hearing the theology of Jesus. Pastor Josh explains that when a slave speaks, the message carries the authority of the master.
Recent Broadcasts
Featured Offer from God Centered Life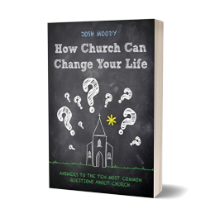 How Church Can Change Your Life
Google "books on church," and there will be no shortage of choices! Some will be helpful, others less so. So why another book on church? Josh Moody, is, in fact, asking a very different question: why should I go to church at all? Filled with practical advice, this book will help you answer questions you maybe should have known the answer to and other questions you never knew to ask!