God Centered Life
with Josh Moody
The Bible Explained: Abiding
Wednesday, January 29, 2020
Jesus uses the picture of vines being pruned to illustrate our being disciplined. Jesus is saying he's the fulfillment of all God wanted from his people in the Old Testament, and if we abide in Him, we'll bear much fruit.
Recent Broadcasts
Featured Offer from God Centered Life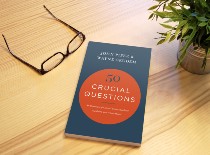 50 Crucial Questions by John Piper and Wayne Grudem
This month at God Centered Life, we're offering a copy of John Piper and Wayne Grudem's 50 Crucial Questions for your gift of any amount. The roles of men and women are immensely contested in both society and the church today. Answering objections raised against the view that God created men and women equal in value but distinct in role, John Piper and Wayne Grudem winsomely present a biblical vision of gender roles that is life-giving and fulfilling for both men and women. When you make your gift, we'll send a copy your way.  (If you'd prefer not to receive the book, just note that in the comment box during checkout). God Centered Life is a listener-supported ministry. Your partnership with GCL makes what we do possible, and this ministry cannot exist without your support!