God Centered Life
with Josh Moody
Think Different. Live Different. - "Faith," Part 2
Thursday, February 21, 2019
There is a tendency for us to become experts as a way for us to avoid practicing what we preach. Pastor Josh teaches about the person who knows the Bible well in theory but who does not practically uphold the law.
Recent Broadcasts
Featured Offer from God Centered Life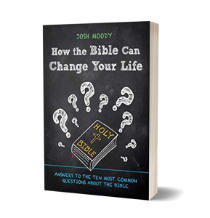 How the Bible Can Change Your Life
Christians are Bible people. We believe that God speaks to us through His inspired Word. And yet many Christians and churches don't actually open their Bibles. Josh Moody asks the question: Why should I read the Bible?