God Centered Life
with Josh Moody
Think Different. Live Different - "Saved by His Life," Part 1
Tuesday, March 26, 2019
We can so easily trivialize what it means to be saved -- just make a decision and take a few steps forward. Pastor Josh explains that salvation is a much bigger experience than that. It's not a checklist; it's an encounter with the living Lord Jesus Christ.
Recent Broadcasts
Featured Offer from God Centered Life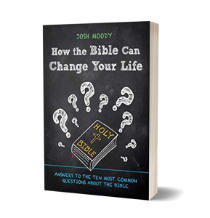 How the Bible Can Change Your Life
Christians are Bible people. We believe that God speaks to us through His inspired Word. And yet many Christians and churches don't actually open their Bibles. Josh Moody asks the question: Why should I read the Bible?