Insight for Living
with Chuck Swindoll
A Brave Teenager and a Giant, Part 1
Wednesday, August 14, 2019
Bring up the story of David and Goliath with most people, and they will be familiar with the epochal event that took place thousands of years ago in a valley in Israel. Hands down, David and Goliath are doubtlessly the most famous characters in the Old Testament. Christians and non-Christians alike can recall what happened. But there is so much more to the biblical account than a shepherd boy who killed a giant. Between the lines of 1 Samuel 17 are timeless, relevant, usable principles that apply to us as we face the "giants" of our own world—giants that are dwarflike when compared to Jesus who empowers us.
Recent Broadcasts
Featured Offer from Insight for Living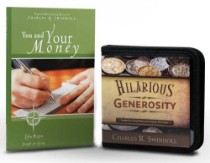 Add Joy to Your Generosity
Chuck Swindoll's series Hilarious Generosity uncovers the joyful side of generosity as you give to God's work. And the book You and Your Money teaches you God's wisdom on handling finances.