Insight for Living
with Chuck Swindoll
As Dawn Arrived . . . He Arose, Part 1
Wednesday, April 8, 2020
For the follower of Jesus, there's no holiday any grander than Easter. It represents the culmination of biblical prophecy and the very foundation of our Christian faith. Today we'll place our current series on hold and focus entirely on the biblical record in Matthew 28. For the next three days, we'll trace the footsteps of the eyewitnesses to the miraculous Easter weekend.
Recent Broadcasts
Featured Offer from Insight for Living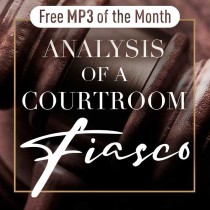 Analysis of a Courtroom Fiasco
Jesus lived His entire life without doing anything wrong. Yet He suffered a punishment normally reserved for the worst criminals. Yet, as we see in this free MP3, He stayed calm and spoke the truth with dignity. Let's imitate Christ in our response to the injustices we experience.