Insight for Living
with Chuck Swindoll
Choosing the Recipe: Pursuing the Treasures of Scripture, Part 2
Wednesday, September 11, 2019
There are few subjects more important than learning how to feed yourself with the Word of God. A master chef named Howard G. Hendricks opened God's Word at Dallas Theological Seminary and taught a subject he called Bible Study Methods, which forever changed the way Chuck Swindoll handled the Bible. Pursuing the treasures of Scripture isn't just for seminary students—it's for everyone. Every Christian can learn how to "cook"—how to dig into the Word and let it renew our minds.
Recent Broadcasts
Featured Offer from Insight for Living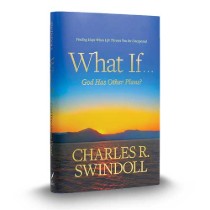 Brand-new Book by Chuck
In his new book, What If . . . God Has Other Plans? Chuck Swindoll leads you on a journey through Scripture to find the hope and wisdom you need when life throws you the unexpected.