Insight for Living
with Chuck Swindoll
Defusing Disharmony, Part 1
Tuesday, July 9, 2019
Conflicts among God's people are not new. Personality clashes, doctrinal differences, church squabbles, denominational splits, competition among preachers, public arguments, and private grudges are—unfortunately—commonplace. Instead of being a beautiful model of harmony, as one body, we frequently opt for sustaining offenses rather than forgiving and overlooking a wrong. But it doesn't have to be this way.
Recent Broadcasts
Featured Offer from Insight for Living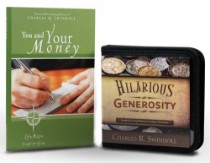 Add Joy to Your Generosity
Chuck Swindoll's series Hilarious Generosity uncovers the joyful side of generosity as you give to God's work. And the book You and Your Money teaches you God's wisdom on handling finances.