Insight for Living
with Chuck Swindoll
Extending Grace, Part 1
Thursday, March 26, 2020
No one is immune to injustice. Most of us have suffered undeserved indignities, hurtful slights, and paralyzing humiliations. Some injustices are trivial and should be treated as such; others can be life-altering. In such times, we are tempted to seek revenge rather than entrust our character to the Lord. God's way allows for the ministry of grace to do its transforming work.
Recent Broadcasts
Featured Offer from Insight for Living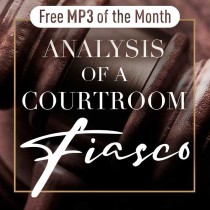 Analysis of a Courtroom Fiasco
Jesus lived His entire life without doing anything wrong. Yet He suffered a punishment normally reserved for the worst criminals. Yet, as we see in this free MP3, He stayed calm and spoke the truth with dignity. Let's imitate Christ in our response to the injustices we experience.